Mới hôm nay, BlackBerry vừa công bố rằng hãng đang làm việc với Google về giải pháp BES12 -đây là giải pháp EMM của BlackBerry để quản lý các thiết bị với Android for Work. Ngoài ra, giải pháp của Google nhằm tách biệt dữ liệu kinh doanh và dữ liệu cá nhân cùng các ứng dụng liên quan đã được ra mắt tại Google I/O vào năm vừa rồi.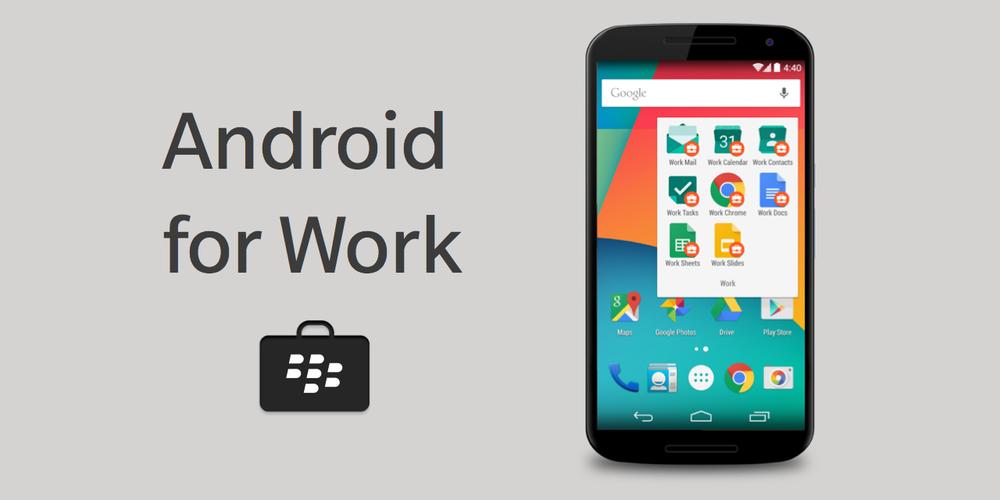 Billy Ho – Phó chủ tịch điều hành, sản phẩm và giải pháp doanh nghiệp cho biết: "BlackBerry đang làm việc với Google nhằm cung cấp những giải pháp để có thể tự tin triển khai trên tất cả các nền tảng di động trong tổ chức doanh nghiệp của khách hàng. Khi Android kết hợp cùng BES12 sẽ cung cấp cho khách hàng nhiều lựa chọn khác để tăng cường bảo mật cho điện thoại di động và cải thiện hiệu suất sử dụng, đồng thời bạn sẽ không cần phải từ bỏ vấn đề kiểm soát dữ liệu doanh nghiệp hay thay đổi thói quen và môi trường làm việc".
Ngoài việc công bố BES12 cho Android, BlackBerry cũng đã nỗ lực mở rộng việc hỗ trợ cho Android thông qua các dịch vụ bao gồm: BBM Meetings, BBM Protected, VPN Authentication và WorkLife. Nếu bạn chưa biết thì phiên bản preview của BES12 cho Android sẽ được ra mắt vào tháng Ba và chính thức ra mắt vào Quý Hai 2015.  Dưới đây là thông cáo báo chí gốc từ phía BlackBerry:
---
BlackBerry Works With Google to Enhance Mobile Security and User Experience
BlackBerry to reinforce cross-platform capabilities as a preferred EMM provider of Android for Work
WATERLOO, ONTARIO–(Marketwired – Feb. 25, 2015) – BlackBerry Limited (NASDAQ:BBRY)(TSX:BB), a global leader in mobile communications, announced today that the Company is working with Google to enable BES12™: a cross-platform EMM solution by BlackBerry® to manage devices equipped with Android for Work, Google's solution to securely separate business and personal data and applications.
Backed by BES12, Android for Work creates a secure, dedicated profile for business data and applications. The BES12 solution will seamlessly integrate with the Android OS to enable platform-level containerization. This will eliminate the need for application wrapping, while providing unhindered access to Google Now and any Android application available on Google Play™ that is permitted by an organization's IT policies.
BES12 will provide organizations with the most secure and flexible way to manage Android for Work. Android for Work smartphones and tablets will be natively managed within the BES12 environment, which streamlines management of all device platforms and deployment models, such as BYOD and COBO, in a single command and control center. Android for Work will be deployable with BES12 either on-premise or in the cloud, and will be supported by BlackBerry's gold standard of mobile security, scalable architecture and trusted network infrastructure.
"BlackBerry is working with Google to provide customers with solutions they can confidently deploy on all major mobile platforms within their organization," said Billy Ho, Executive Vice President, Enterprise Products and Value Added Solutions, BlackBerry. "Android for Work with BES12 will provide customers with another option to enhance their mobile security and the productivity of their employees, and the peace of mind that they will not have to relinquish any control over corporate data, sacrifice user experience or introduce more complexity into their environments."
In addition to announcing BES12 support for Android for Work, BlackBerry has expanded its cross-platform efforts with support for Android through value added services including BBM™ Meetings, BBM Protected™, VPN Authentication by BlackBerry® and WorkLife by BlackBerry®.
BES12 support for Android for Work will be available for an invite only preview in March and will be available starting in the second quarter of 2015. For additional information, visitwww.BlackBerry.com/googleandroid. To learn more about BES12, visit www.BlackBerry.com/bes12.
About BlackBerry
A global leader in mobile communications, BlackBerry® revolutionized the mobile industry when it was introduced in 1999. Today, BlackBerry aims to inspire the success of our millions of customers around the world by continuously pushing the boundaries of mobile experiences. Founded in 1984 and based in Waterloo, Ontario, BlackBerry operates offices in North America, Europe, Middle East and Africa, Asia Pacific and Latin America. The Company trades under the ticker symbols "BB" on the Toronto Stock Exchange and "BBRY" on the NASDAQ. For more information, visit www.BlackBerry.com.
Forward-looking bar statements in this news release are made pursuant to the "safe harbor" provisions of the U.S. Private Securities Litigation Reform Act of 1995 and applicable Canadian securities laws. When used herein, words such as "expect", "anticipate", "estimate", "may", "will", "should", "intend", "believe", and similar expressions, are intended to identify forward-looking statements. Forward-looking statements are based on estimates and assumptions made by BlackBerry Limited in light of its experience and its perception of historical trends, current conditions and expected future developments, as well as other factors that BlackBerry believes are appropriate in the circumstances. Many factors could cause BlackBerry's actual results, performance or achievements to differ materially from those expressed or implied by the forward-looking statements, including those described in the "Risk Factors" section of BlackBerry's Annual Information Form, which is included in its Annual Report on Form 40-F (copies of which filings may be obtained at www.sedar.com or www.sec.gov). These factors should be considered carefully, and readers should not place undue reliance on BlackBerry's forward-looking statements. BlackBerry has no intention and undertakes no obligation to update or revise any forward-looking statements, whether as a result of new information, future events or otherwise, except as required by law.
BlackBerry and related trademarks, names and logos are the property of BlackBerry Limited and are registered and/or used in the U.S. and countries around the world. All other marks are the property of their respective owners. BlackBerry is not responsible for any third-party products or services.
---
Minh Nghĩa